Victor® Zapper Max™ Indoor-Outdoor Electronic Trap
Special Price
$110.00
Regular Price
$123.49
Victor® Zapper Max™ Indoor-Outdoor Electronic Trap
48
3.5
5
1
Earn 2200 rewards points on your purchase!
Electronic trap provides humane, high-voltage shock to eliminate mice and rats
Durable, weather-resistant design allows for use both indoors and outdoors
Professional-grade trap - for trappers of all experience levels
Dual-entry design increases the chances of a catch
Kill-Switch technology auto shuts off the trap when lid is open
Safety mechanism keeps small hands & paws from electrified plates
Requires 4 "AA" lithium batteries
Victor® Zapper Max™ Outdoor Rat Trap
Don't let the discreet, low-profile design of the Victor® Zapper Max™ Outdoor Rat Trap fool you. This professional-strength trap was built to withstand indoor and outdoor conditions to effectively eliminate mice and rats from your property. A built-in indicator light will alert you when a catch is made or the batteries are low. Trappers of all experience levels will enjoy the ease of use, safety features, and high kill rates this trap provides.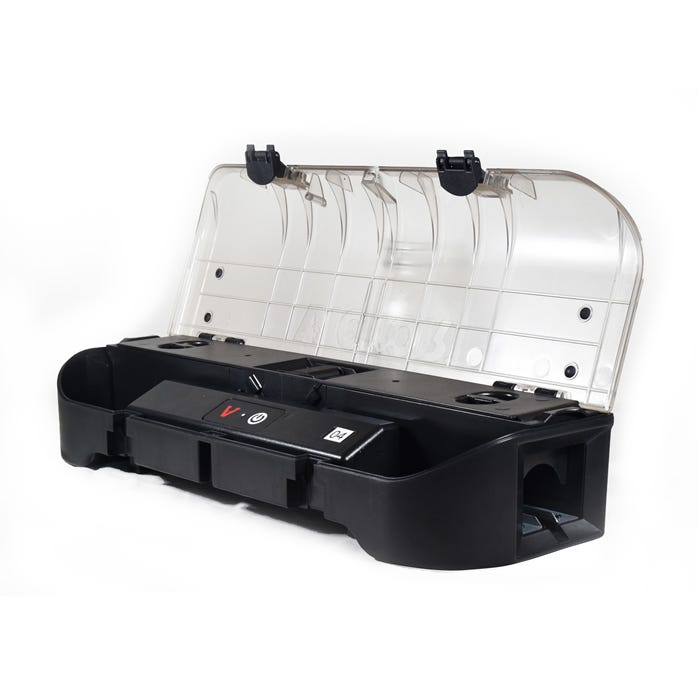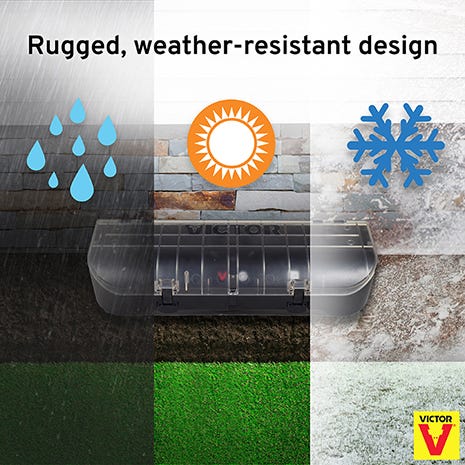 Water-Resistant Design
Most electronic mouse and rat traps are for indoor use only. The Victor® Zapper Max™ Outdoor Rat Trap changes that completely by providing protection indoors and outdoors. Designed to be weather-resistant, this trap can be placed nearly anywhere outdoors where you are experiencing rodent problems. Made of durable plastic, the trap seals tightly to keep water from entering the trap, making it ideal for eliminating rodents outside before they have a chance to invade your home.
Dual-Entry Tunnel Ensures Higher Kill Rates
Rodents prefer to travel along the base of walls and are more likely to enter a tunnel when they can see through it entirely. The Outdoor Electronic Rat Trap features dual-entry points that ensure higher kill rates and encourage rodent interaction. Once inside, rodents are quickly eliminated with a humane, high-voltage shock. The trap can catch one mouse per entry point, so make sure to check the trap frequently for a catch or two!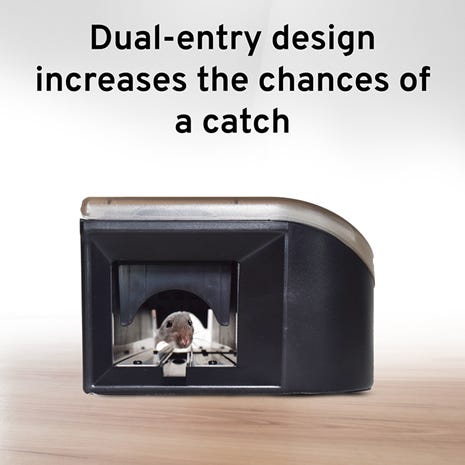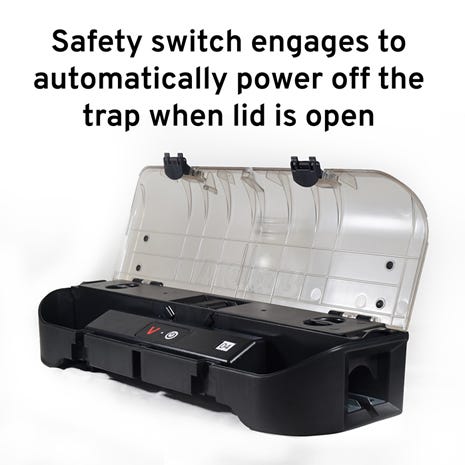 Built-In Safety Features
When it comes to safely eliminating rodent infestations, Victor® leads the way. The Victor® Zapper Max™ Outdoor Rat Trap features two door locks on the front of the trap to keep the lid securely closed. Each trap comes with Kill-Switch technology that automatically shuts off the trap when the lid is open. Tunnel baffles help prevent small hands, fingers, and paws from coming into contact with the electrified plates and also prevent mice from backing out of the trap. This trap contains no poisons or toxins, making it an ideal choice for homes with kids and pets.
Low-Profile, Economic Design
Not all mouse and rat traps can be described as sleek or even low-profile. The Victor® Zapper Max™ Outdoor Rat Trap can be used indoors and outdoors without disrupting your home décor. The trap is sleek enough to fit underneath furniture and outdoors it blends seamlessly into your property.In addition to its professional design, the Zapper Max™ Outdoor Rat Trap Outdoor Electronic Rat Trap can save you money over time. The removable bait cup ensures perfect placement of bait every time and attracts rodents to the exact spot they need to stand to be eliminated. However, the bait cup does not allow rodents to eat the bait which means less wasted bait!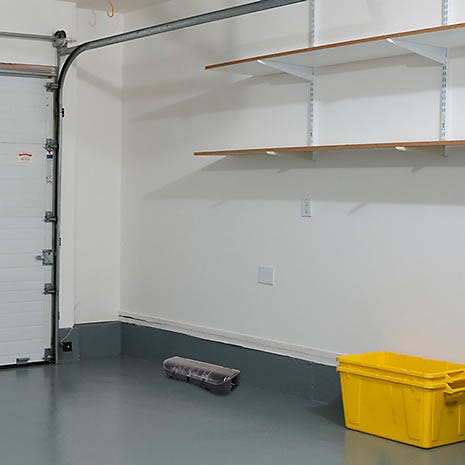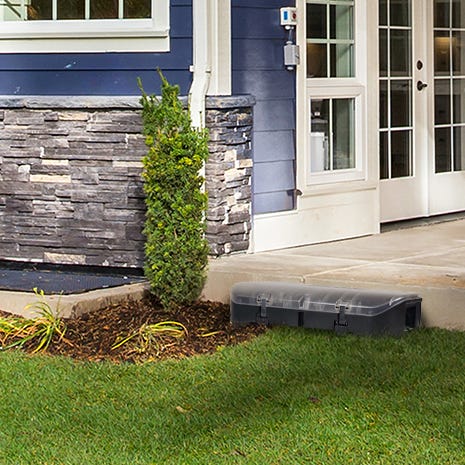 How to Use
Follow these simple steps to effectively eliminate mice and rats from your property.
Locate areas of rodent activity inside and outside of your home or business
Add batteries and bait in the designated areas and place the trap where you've noticed signs of rodents
Monitor your trap daily for signs of a catch. LED lights will blink to signal a catch and the clear lid allows you to see inside
Don gloves and properly dispose of rodents. Clean the trap if necessary and place again to continue reducing the infestation
Victor® Zapper Max™ Outdoor Rat Trap Product Details
Do you want to know more helpful details about the Zapper Max™ Outdoor Rat Trap? Take a closer look at the in-depth specifications for this product.
Victor® Zapper Max™ Outdoor Rat Trap
Model #
M460UC
Dimensions
18" x 5.5" x 3/5"
Water Resistance
Water resistant up to 1 meter
Kills Per Setting
Up to 2 mice or 1 rat
Batteries Required
4 "AA" lithium batteries (lasts up to 3 years)
Notification Method
LED lights
Elimination Method
Humane, high-voltage shock
For Use Against
Mice and rats
Victor® Zapper Max™ Outdoor Rat Trap
Model #
M460UC
Dimensions
18" x 5.5" x 3.5"
Kills Per Setting
Up to 2 mice or 1 rat
Batteries Required
4 "AA" lithium batteries (lasts up to 3 years)
For Use Against
Mice and rats
Notification Method
LED lights
Elimination Method
Humane, high-voltage shock
Water-Resistant
Water-resistant up to 1 meter
Poison-Free
Yes
Additional Features

Kill-Switch technology automatically shuts off trap when lid is open
Clear lid allows you to see inside
Door locks add a layer of protection and seal the trap lid shut
Removable bait cup ensures proper placement