Victor® Sonic Spike™ - 2 Pack
Special Price
$34.79
Regular Price
$39.49
Victor® Sonic Spike™ - 2 Pack
15
3
5
1
Earn 680 rewards points on your purchase!
Effectively repels moles and gophers with sonic frequencies
Sonic pulses penetrate the ground every 30 seconds
Operates in a circular pattern, approximately 95 ft in diameter
Safe for use around pets when used as directed
Each spike requires 3 "D" batteries (not included), rechargeable batteries not recommended
Includes 2 Pack
Cannot Ship to:
HI, NM, PR
Victor® Sonic Spike™ - 2 Pack
Safely send moles and gophers scurrying from your yard unharmed with this easy-to-use mole and gopher spike. When placed in the ground and activated, sonic pulses penetrate the soil, emitting a sound which is highly irritating to moles and gophers who are virtually blind and overly sensitive to sound and vibrations. Climate permitting, leave the sonic mole and gopher repeller in the ground to repel new generations of pests.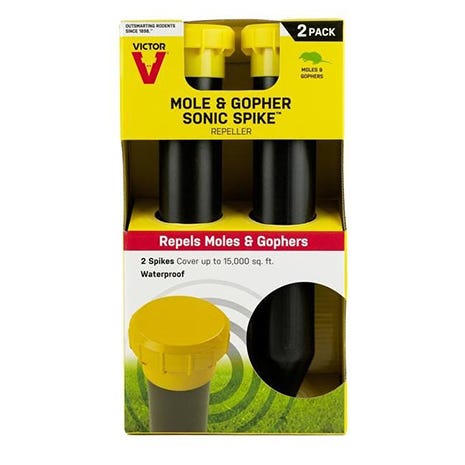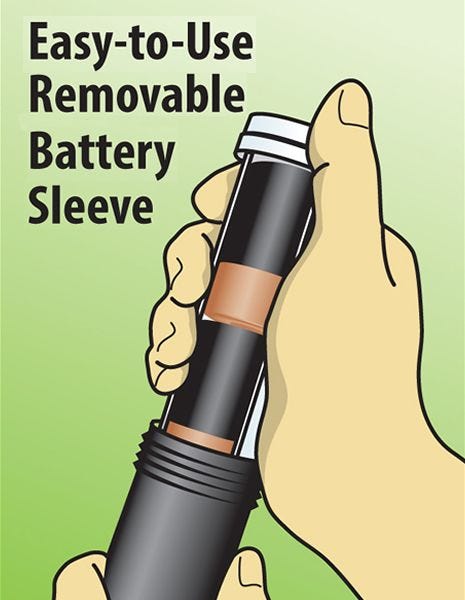 Removable Battery Sleeve
The mole and gopher sonic spike is designed with a convenient removable battery sleeve for trouble-free battery replacement. A Spike will work for 4 – 6 months on one set of alkaline batteries. Spike must be used continuously for 7-14 days before moles and gophers start to move away from the area.
Proper Placement
Be sure to insert the Spike into the soil so that the cap is flush with the ground to avoid tripping hazards and the chance of hitting it with a lawnmower. Effectiveness depends largely upon soil type: dry, sandy or peat soil does not conduct the sonic waves easily. Moist clay is the best conductor of sound.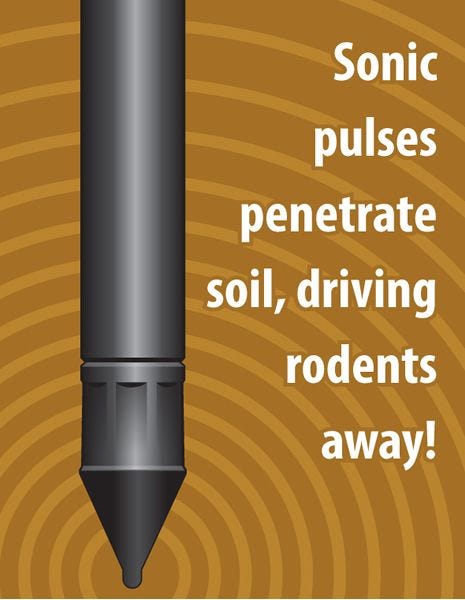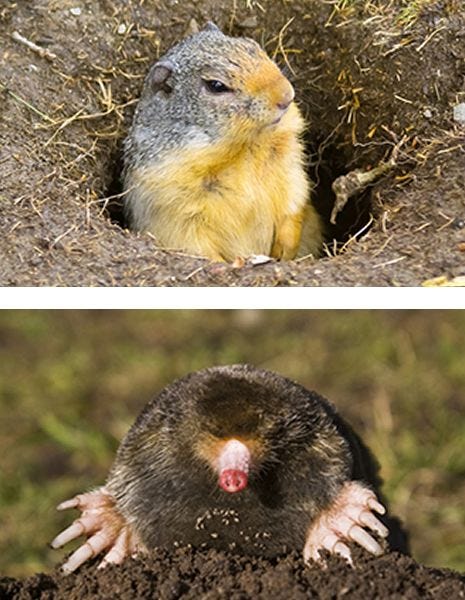 How to Use
To open, unscrew YELLOW cap counter-clockwise.
Remove battery cartridge and insert 3 "D" cell batteries. Re-insert the battery cartridge into the Spike. If battery installation is correct, you will hear the first vibrating sound within 15 seconds.
Tighten the cap securely to keep moisture out.
Use a wooden or steel rod to make pilot holes prior to inserting the Mole & Gopher Sonic Spikes™. To prevent damage, do not hammer the Spike into the ground.
Insert Spike until the bottom of the cap begins touching the ground.
Insert Spike all the way into the ground. This will prevent the chance of hitting it with a lawnmower. Be certain to insert the Spike so that the cap is flush with the ground. If it protrudes an inch or two it could be a tripping hazard. Remember where the Spike is located so it may be removed for battery replacement.
Remove Sonic Spike™ when flooding may occur or before ground freezes.
Victor® Sonic Spike™
Do you want to know more helpful details about the Victor® Sonic Spike™? Take a closer look at the in-depth specifications for this product.
Victor® Sonic Spike™
Model #
M9012
For Use Against
Moles and gophers
Recommended Placement
In the ground, near rodent activity
Design
Battery operated spike: 3 "D" cell batteries (not included)
Victor® Sonic Spike™
Model #
M9012
Quantity
2 Sonic Spikes™
Design
Battery-operated spike: 3 "D" cell batteries per spike (not included)
For Use Against
Moles and gophers
Recommended Placement
In ground, near rodent activity
Product Features

Easy-to-use removable battery chamber
Will not harm pets
Spike covers up to 7,500 sq ft
Sonic pulse emitted every 30 seconds
Spike operates in a circular pattern, approximately 95 ft in diameter
Mow over design - bury flush with the ground
Waterproof
Customer Reviews
13%
of customers
recommend this product