Victor® Electronic Mouse Trap
As low as
$44.99
Regular Price
$30.49
Victor® Electronic Mouse Trap
73
3.6
5
1
Earn 880 rewards points on your purchase!
Kills mice with a humane high-voltage shock
Kills up to 100 mice per set of four AA Batteries (not included)
Improved design: easy to bait, easy to clean, no touch disposal
Green LED light indicates when a kill has been made
100% kill rate: beveled columns trap mice in place
Indoor use only
Available Sizes: 1-Pack, 2-Pack, 3-Pack
Victor® Electronic Mouse Trap - 2-Traps
Quickly eliminate mice inside your property with the humane, high-voltage killing power of the Victor® Electronic Mouse Trap. Featuring a new and improved industrial design, this trap has a built-in bait cup and removable kill chamber to allow for easy setup and disposal. To use, simply place a high protein bait in the provided bait cup, place in a location with high rodent activity and power on. This powerful device is capable of killing up to 100 mice per set of batteries, making it the perfect addition to your pest control routine.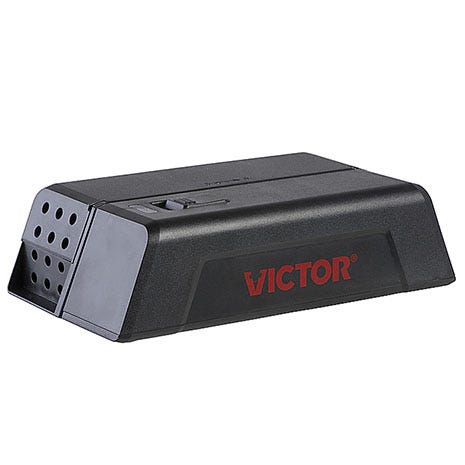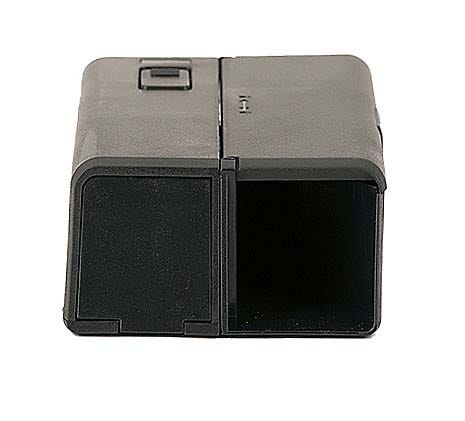 High-Voltage Shock Humanely Kills Rodents
This powerful device uses advanced smart circuit technology to sense when a mouse enters the tunnel. Once inside, the circuit triggers a high-voltage shock, humanely killing the mouse in seconds. The Victor® Electronic Mouse Trap is capable of eliminating up to 100 mice per set of fully charged batteries. Plus, with this trap, there's no need for poisons or chemicals, allowing it to be used anywhere inside your home or business.
No Escapes - Beveled Columns Keep Mouse In Place
To enter the Victor® Electronic Mouse Trap, mice pass through a uniquely designed tunnel with beveled columns. These columns direct the mouse further into the tunnel and make it difficult to back out. The columns also help to keep the mouse in place over the trigger plate to prevent escapes, ensuring a 100% kill rate.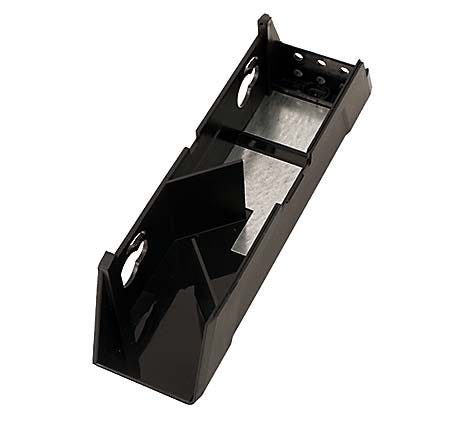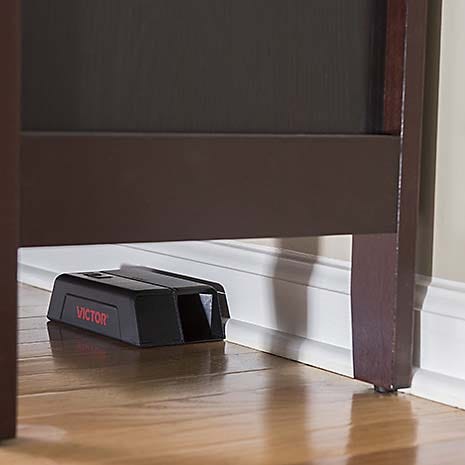 LED Light Alerts
With the Victor® Electronic Mouse Trap, simplifying your pest control routine is a breeze. When a catch is made, the trap's built in LED light will blink green. You'll know when it's time to empty your trap without having to check manually. Plus, the convenient LED light function will not only notify you of a catch, but it will also alert you when the trap's battery is running low by flashing red.
Removable Kill Chamber Ensures Easy Cleaning
The industrial design boasts a removable kill chamber with lid, providing access to the trigger plates so that cleaning between uses is easy. Once a catch is made, power off the trap, remove the kill chamber and open the lid. The trap's built-in safety switch automatically deactivates the trap when opened. Then dispose of the dead rodent in the trash without ever having to touch it.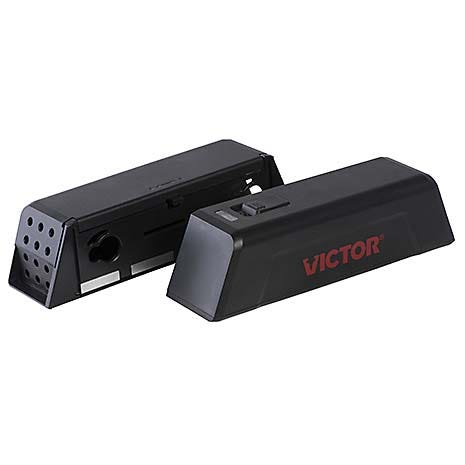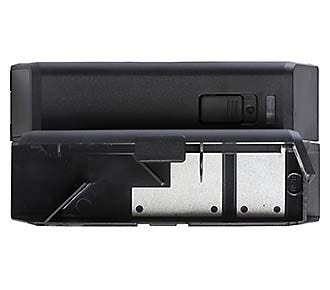 Convenient Bait Cup for Effortless Bait Application
With a built-in bait cup, you know your trap is properly baited. Access the cup by opening the kill chamber lid. The cup is marked on the floor of the trap furthest from the rodent entrance. To get started, use a toothpick or cotton swab to apply a high protein bait such as peanut butter or hazelnut spread in the cup. Place your trap where rodents are known to travel and turn it on!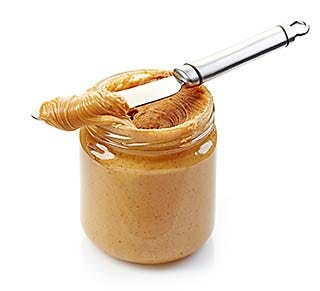 Victor® Electronic Mouse Trap Product Details
Do you want to know more helpful details about the Victor® Electronic Mouse Trap? Take a closer look at the in-depth specifications for this product.
Victor® Electronic Mouse Trap - 2-Pack
Model #
BM250S-2
Quantity
2 Traps
Kills per Setting
1
Kills per Set of Batteries
100
Batteries Required
4 AA batteries (not included)
Kill Method
Humane, high-voltage shock
Alert Method
LED light
Materials
Plastic, metal
Victor Product Comparison
See how the Smart-Kill™ compares to other Victor® electronic mouse traps.
Smart-Kill™ Electronic Mouse Trap: M1
Electronic Mouse Trap: M250S
Multi-Kill™ Mouse Trap: M260
Kills Per Setting
1 Mouse
1 Mouse
10 Mice
Kills Per Set of Batteries
100 Mice
100 Mice
150 Mice
Kill Method
Humane, high-voltage shock
Humane, high-voltage shock
Humane, high-voltage shock
Alert Method
Wi-Fi-enabled mobile alerts
LED light
LED light
Safety Switch?
Yes
Yes
Yes
Additional Features
Removable Kill chamber, built-in bait cup
Removable Kill chamber, built-in bait cup
Collection drawer, dual entry
Victor® Electronic Rat Trap
Model Number
CM250S
Available Sizes
1 Trap, 2 Traps, 3 traps
Kills Per Setting
1
Kills Per Set of Batteries
100
Kill Method
Humane, high voltage shock
LED Light
Indicates a kill
Removable Kill Chamber
For easy cleaning
Batteries
Requires 4 "AA" batteries (not included)
For Use
Indoors
Are my Victor Electronic Mouse Traps working? With 4 brand new units and 16 fully charged Duracell batteries inserted. They all flashed a green light when turned on, but there was no "buzz" that was mentioned in the instructions.
Question by: Timothy McPeak on Aug 28, 2021, 5:00 PM
We apologize for any confusion! If the traps are flashing green when turned on, this indicates that they are armed and ready. While the traps will often buzz as well, the buzz is fairly quiet and may be hard to hear if there is any background noise.
Answer by: Rachel Faust on Aug 30, 2021, 9:51 AM
After I turned my unit on it gave the green light and then it gave s flashing red light for a moment. What does that mean? I just put brand New batteries.
Question by: Romina Comolli on Sep 5, 2021, 3:39 AM
A red light indicates a low battery life. Please give us a call at 855-584-2867 for assistance.
Answer by: Rachel Faust on Sep 7, 2021, 10:49 AM
the lights stopped working
how can I tell if the unit is on
Question by: Ronald LeClair on Dec 4, 2021, 1:20 PM
The light is not supposed to stay on all the time. It will alert when there is a catch or dead batteries. If the trap is losing the bait without a catch it could be failing at triggering.
Answer by: Brandon Deleon on Dec 6, 2021, 8:40 AM
When I turn it on it blinks green then a red light blink and buzz. It continues to blink green but no catch. I actually caught a mouse on a sticky in close proximity to this. How do I know when batteries need changing? I certainly have not killed 100 mice per battery. Only one so far.
Question by: Lonna on Jan 3, 2022, 3:56 PM
This sounds like the metal plates of the trap need to be cleaned. We recommend the following steps to clean the trap:
- Always turn the trap off and remove the batteries first
- If applicable, remove the kill chamber from the electronics portion of the trap
- Use a hydrogen peroxide topical solution (available at most drug stores - nothing above 3% in solution (typical drug-store variant) and an old toothbrush to clean the inside of the chamber. Use a wire brush as needed to remove any corrosion, being careful not to be too vigorous. This could accidentally remove all of the protective zinc plating
- Thoroughly dry the interior and exterior of the kill chamber prior to trap reassembly.
- To reassemble trap, hold the base of the trap with your left hand and slide the top into place by pushing forward with your right hand to reconnect the pieces (If applicable)
Answer by: Lauren Steiner on Jan 4, 2022, 7:52 AM
Good evening, can this trap be placed directly on carpets? Thank you
Question by: John on Oct 10, 2021, 10:59 PM
We do not recommend placing the trap on carpet.
Answer by: Brandon Deleon on Oct 11, 2021, 8:50 AM