Victor® Rat Zapper Classic Rat Trap
As low as
$37.49
Regular Price
$62.49
Victor® Rat Zapper Classic Rat Trap
198
4.1
5
1
Earn 1380 rewards points on your purchase!
High-voltage shock humanely kills mice and average-size rats
Easy to use – insert batteries, add bait, turn it on, place the trap
Blinking green LED light notifies you of a catch
Never touch a dead rodent – simply tip into the trash!
Kills up to 20 rats per set of 4 "AA" Batteries (not included)
For indoor use only
Available Sizes: 1-Pack, 2-Pack, 3-Pack
Rat Zapper® Classic Rat Trap - 2-Traps
Eliminate your rodent problem quickly and effectively with the Rat Zapper® Classic Rat Trap. From set-up and use through cleaning and maintenance, each zap will be a snap thanks to the easy-to-use design. This humane trap kills rodents using a high-voltage shock and since rats are able to restart their hearts, the shock is applied for 2 minutes to ensure higher kill rates. To get started, simply apply a high-protein bait in the provided bait cup, place the trap in a location with high rodent activity and turn it on.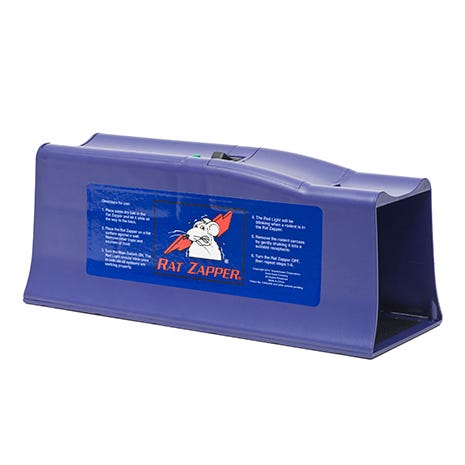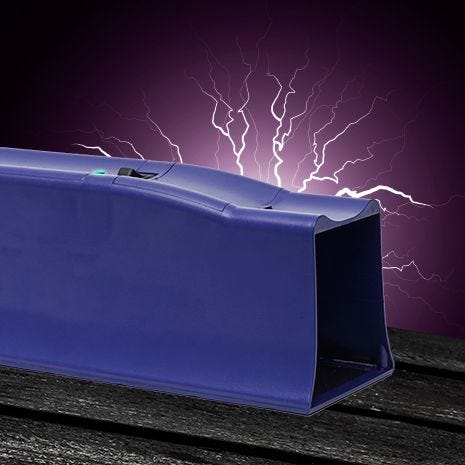 High-Voltage Shock Humanely Kills Rodents
The Rat Zapper® Classic is equipped with smart circuit technology that senses when a rodent enters the trap. Once the rodent is inside, it steps on the metal plates, completing the circuit and the trap delivers a continuous high-voltage shock for 2 minutes to effectively eliminate rat invader. This trap is capable of eliminating up to 20 rats per set of fully charged batteries (4 "AA").
LED Light Alerts
With the Rat Zapper® Classic Rat Trap, simplifying your pest control routine is a breeze. Each time the trap catches a rat, the light on top of the trap flashes green to indicate a kill. You'll know when it's time to empty your trap without having to check manually.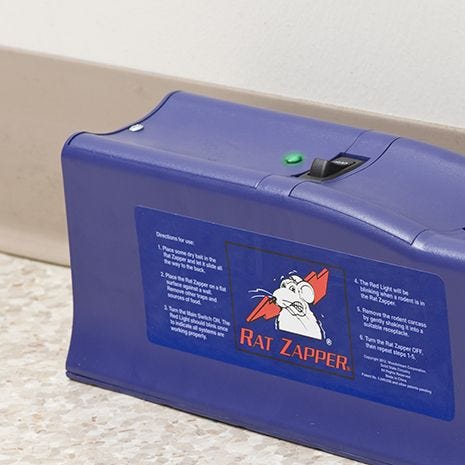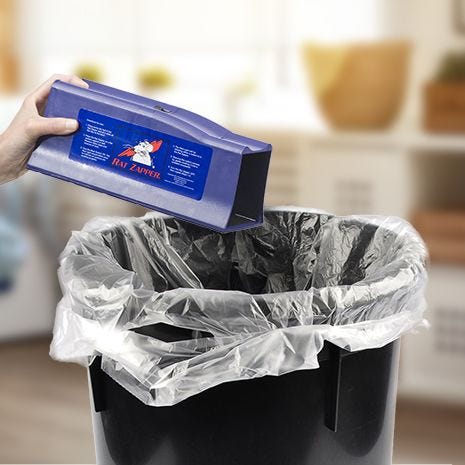 No-Touch Cleanup
With the Rat Zapper® Classic, cleanup is effortless! Unlike standard rat traps, you don't have to touch or look at dead rodents. The rat is contained within the kill chamber, which hides it from sight, while the indicator light lets you know when it's time to empty. After a kill, just tip the trap to discard the dead rodent into the trash without having to touch it.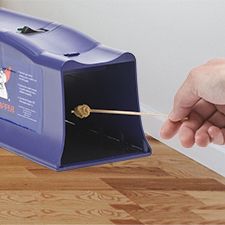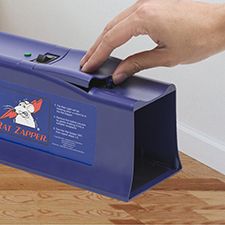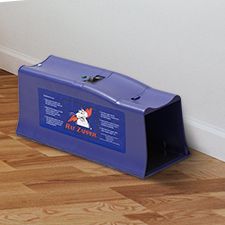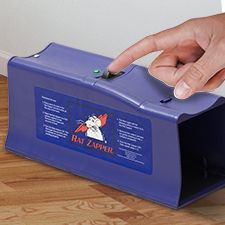 How to Set the Rat Zapper® Classic Rat Trap
For your convenience, the Rat Zapper® Classic Rat Trap is very easy to use. Get your trap setup by following these four simple steps:
Add Bait - Apply a small amount of high-protein bait, such as peanut butter, to the back wall of the trap away from the metal plates using a Q-tip or other tool to avoid transferring your scent.
Insert Batteries - Remove the battery cover. Insert 4 "AA" batteries into the battery compartment before replacing the cover.
Place the Trap - Place the trap on a flat surface against a wall where you have seen signs of rodent activity. The trap should be placed lengthwise with the entrance nearest to the wall.
Turn On - Activate by flipping the switch to the "ON" position. A green light will blink once to indicate the trap is functioning properly.
Victor® Rat Zapper® Classic Rat Trap Product Details
Do you want to know more helpful details about the Victor® Rat Zapper® Classic Rat Trap? Take a closer look at the in-depth specifications for this product.
Victor® Rat Zapper® Classic Rat Trap - 2-Traps
Model #
BRZC001-2
Quantity
2 Traps
Kills per Setting
1
Kills per Set of Batteries
20
Batteries Required
4 "AA" batteries
Kill Method
Humane, high-voltage shock
Alert Method
LED light
Indoors/Outdoors
Indoor use only
Materials
Plastic, metal

WARNING: This product can expose you to chemicals including lead and lead compounds, which are known to the State of California to cause birth defects or other reproductive harm. For more information go to www.P65Warnings.ca.govwww.P65Warnings.ca.gov.
Rat Zapper® Classic Rat Trap
Model #
CRZC001
Available Sizes
1 Trap, 2 Traps, 3 Traps
Kills per Setting
1
Kills per Set of Batteries
20
Batteries Required
4 "AA" batteries
Kill Method
Humane, high-voltage shock
Alert Method
LED light
Materials
Plastic, metal
Usage Notes

Apply a small amount of high-protein bait, such as peanut butter, to the back wall of the trap away from the metal plates using a Q-tip or other tool to avoid transferring your scent.
Remove the battery cover. Insert 4 "AA" batteries into the battery compartment before replacing the cover
Position the trap on a flat surface against a wall where you have seen signs of rodent activity. The trap should be placed lengthwise with the entrance nearest to the wall.
Activate by flipping the switch to the "ON" position. A green light will blink once to indicate the trap is functioning properly
Customer Reviews
8%
of customers
recommend this product