Hantavirus, short for Hantavirus Pulmonary Syndrome (HPS), is a life-threatening disease spread to humans by rodents. The virus is contained in the urine, saliva and droppings of mice. It becomes a threat when humans are exposed to the virus by touching infected specimens and then touching their mouth or nose, or by airborne transmission when the air contaminated by the virus is inhaled. HPS can also be transferred orally through bites or by eating contaminated food.
There's a catch, though. HPS is fatal with a mortality rate of 38% and it can take 1-5 weeks to present symptoms. That means that a weekend hiker might come into contact with the virus when cooking at a campsite and come down with acute symptoms as long as a month later. It can be hard to make the connection, which is even more reason to read up on the signs, symptoms and preventative measures.
Am I at Risk?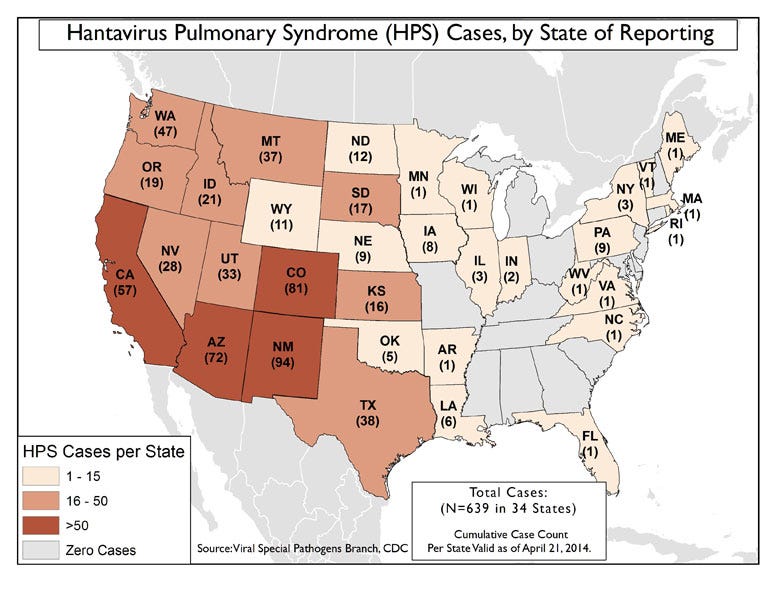 If you have a rodent infestation in your surrounding environment, you're at risk of HPS – even if you're perfectly healthy. Because the virus is carried by four different mice species, disease can occur pretty much anywhere in the United States. Hantavirus is more prevalent in the southwest, though more than 50% of all cases have occurred elsewhere, mostly in rural areas. Between the Deer mouse, rice rat, Cotton rat, and White-footed mouse, HPS has a far reach with its multiple carriers. Click here to see an up-to-date map on hantavirus outbreaks worldwide.
What are the signs?
Say you're sweeping up mouse feces with a broom, unknowingly releasing hantavirus particles into the air. When you inhale the particles, they cause your tiny blood vessels called capillaries to leak, causing major respiratory problems.
HPS presents in two stages. In the first 1-10 days, patients experience fever, stomach issues, chills, muscle aches, headaches, and dizziness. Late symptoms include a cough that produces secretions, lungs filling with fluid, low blood pressure and shortness of breath. You should seek immediate medical attention if you show these signs and symptoms.
What can I do to protect myself?
Don't worry! There's plenty to do to minimize the risk of infection.
Know Your Surroundings
There are a few spots in particular that increase the likelihood of hantavirus exposure, especially in rural settings with overgrowth and abandoned buildings. Extra caution should be used when working in barns, sheds, outbuildings, crawlspaces and basements, and even moving furniture during winter months, as rodents tend to take refuge inside. Campers and hikers should be mindful of infested campsites and trails as well – three hikers died from HPS in Yellowstone National Park in 2012.
Seal Gaps and Holes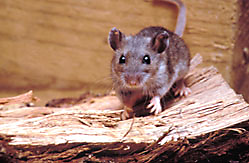 Mice can fit through a hole the size of a dime. Is your house properly protected?
First, check for gaps and holes in the interior of your home or building, including spaces around all kitchen cabinets, refrigerators, and doors as well as around the sinks and water faucets. Also identify gaps in your laundry room, attic, basement and along the junctures between floors and walls. Check out other areas for cracks and holes outside the home, including: around the roof, eaves, doors, and foundations, around dryer vents, pipes and around fireplaces.
Experts in the pest control industry use steel wool to fill in open cracks and gaps. This is because rodents can gnaw through foam, rubber, or even wood barriers. Steel wool is your best option for rodent-proof exclusion or building out rodents.
Set Traps!
In most cases, a sealant isn't enough to keep rodents from entering the home. That's why Victor® traps are easy, convenient tools for trapping rodents – and getting rid of them for good. Victor® has been making mousetraps for over 115 years and knows that no two rodent infestations are the same. When choosing a trap, you'll want to consider the type of rodent you're up against and location of the infestation. Decide which trap is best for you by using our solution finder.
Safely Clean Up
Anyone in a rodent infested environment should avoid direct contact with rodents and their urine or droppings by wearing gloves. Wash gloved hands prior to removing gloves. Because the disease can be transferred through the air, a face mask is highly recommended.
Spray any areas you suspect to be infected with disinfectants like diluted bleach or products like Lysol®, which contain phenol. When using bleach, mix 1½ cups of bleach with one gallon of water, or in smaller proportions using a 1:9 bleach to water ratio. Let it soak for five minutes before wiping clean with a disposable paper towel.
Be sure not to sweep or vacuum mouse droppings, urine or nests. When particles fly in the air the risk for airborne transmission increases. Any bedding or clothing that comes in contact with rodent droppings or urine should be washed in hot water and laundry detergent.
Want to Know More?
Do you want to learn more about how to protect your home and yourself from rodent invaders? Follow Victor® on Facebook, where you can ask questions and stay in tune with others in our online community. Also be sure to sign up for our e-newsletter to get lots of great advice and rodent-proofing tips from the experts at Victor®. And as always, you can trust us to keep you supplied with a wide variety of effect rodent control solutions to keep your home safe, just visit our online store!
Protect Your Family Today