As low as
$51.99
Regular Price
$73.47
Victor® Mole Trap
99
3.3
5
1
Earn 360 rewards points on your purchase!
Plunger-style trap effectively eliminates moles in their tunnels
Spears are located below ground, away from children and pets
Safety pin ensures safe operation and prevents false triggers
Weather-resistant design allows for repeated use
Comes fully assembled and ready to use
Available Sizes: 1-Pack, 3-Pack, and 6-Pack
Victor® Mole Trap
Take control of your garden or lawn with this Victor® Mole Trap. It effectively kills moles without the use of poisons or harsh chemicals, and its weather-resistant spears on the plunger-style trap body lets you use it repeatedly wherever moles happen to pop up in your yard. The safety pin ensures secure operation, and it comes fully assembled and ready to use.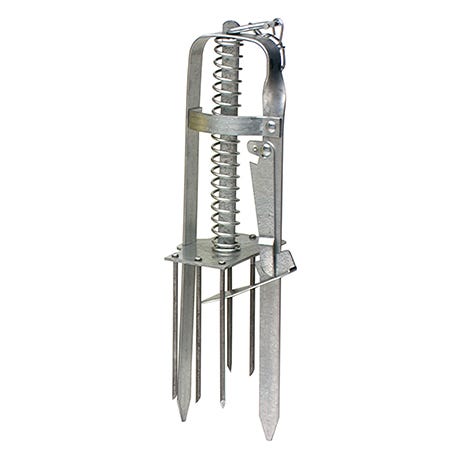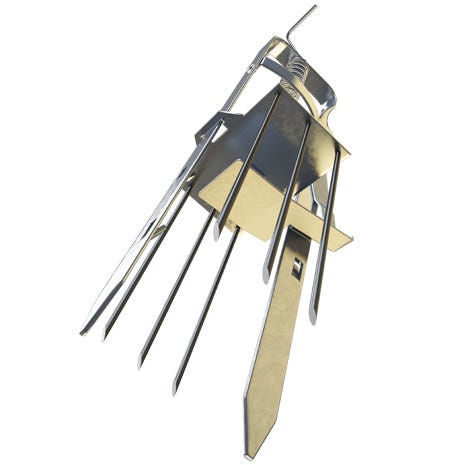 Innovative Plunger-Style Mole Trap
Weather-resistant spears remain below ground when the trap is set, ensuring the sharp points stay away from children and pets. The plunger-style design effectively eliminates moles in their tunnels to help restore your garden to its former condition.
Durable Trap for Moles
This Victor® Mole Trap is made from weather-resistant materials, ensuring its durability and letting you set it multiple times. It's also equipped with a safety pin to prevent false triggers for more efficient operation.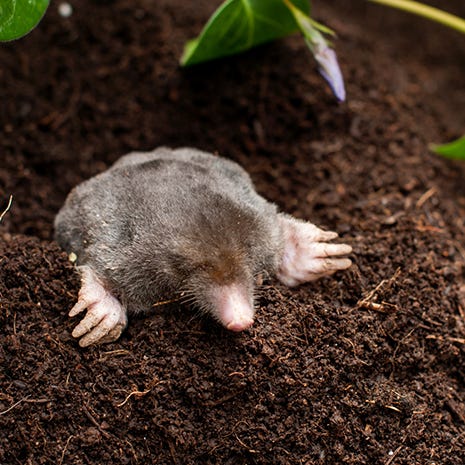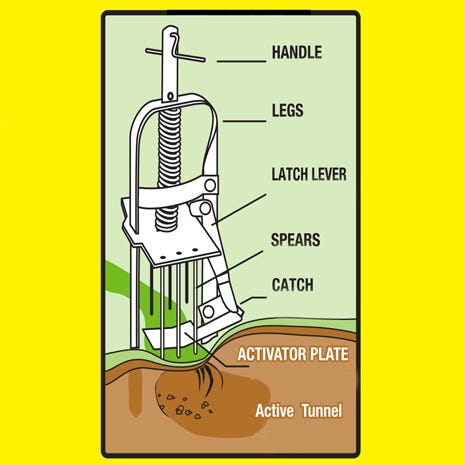 How to Set the Victor® Mole Trap
Place the mole trap directly into the tunnel with the tunnel located beneath the partially blocked activator plate.
Ensure the activator plate rests on the blockage.
The mole's natural instinct is to reopen and clear the tunnel, so if the activator plate is resting on the blockage, they will naturally push up on the plate and release the powerful trap.
When to Set the Victor® Mole Trap
Spring is thought to be the best time of year for setting mole traps because the ground is soft and mole tunnels are easily identifiable, but moles can be trapped at all times of the year, including summer and fall.
The only time that's not ideal for setting mole traps is in cold or dry weather since the ground is typically quite hard.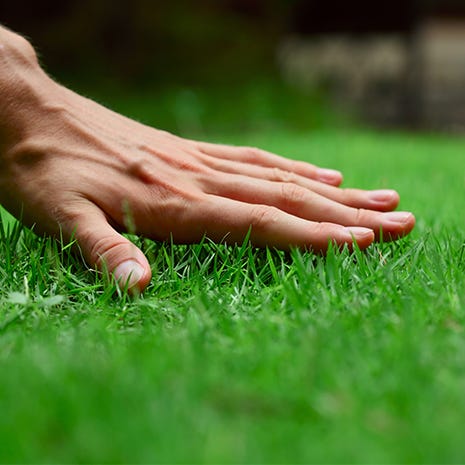 "Bought 6 mole traps caught 5 moles in 5 days very very satisfied"
Victor® Mole Trap Product Details
Do you want to know more helpful details about the Victor® Mole Trap? Take a closer look at the in-depth specifications for this product.
Victor® Mole Trap
Model #
0645
Trap Style
Plunger-style mole trap
For Use Against
Moles
Features

Fully assembled and ready to use
Weather-resistant spers allow for repeated use
Safety pin elminates false triggers

WARNING: This product can expose you to chemicals including chromium, which is known to the State of California to cause birth defects or other reproductive harm. For more information go to www.P65Warnings.ca.govwww.P65Warnings.ca.gov.
Victor® Mole Trap
Model #
C0645
Available Sizes
Available Sizes: Single, 3-Pack, and 6-Pack
Trap Style
Plunger-style mole trap
For Use Against
Moles
Features

Fully assembled and ready to use
Weather-resistant spears allow for repeated use
Safety pin eliminates false triggers

Materials
Metal
Customer Reviews
1%
of customers
recommend this product