Victor® The BlackBox Gopher Traps
As low as
$15.99
Regular Price
$15.99
Earn 300 rewards points on your purchase! Learn More
Choker loop-style trap quickly and effectively eliminates gophers
More effective than conventional wire claw and box traps
Weather-resistant plastic and galvanized steel construction offers superior durability
Can be used in all soil types, including sandy soil
Moving parts are below ground away from children and pets
Available Sizes: 1-Trap, 3-Traps, and 6-Traps
Best Used For

Victor® The Black Box Gopher Trap
Gopher holes popping up is probably one of the last sights you want to see in your yard. With the Victor® the Black Box Gopher Trap, you can be prepared when the worst happens. The trap is constructed of weather-resistant plastic and galvanized steel to offer superior durability for use in the outdoors. When used correctly, traps produce a catch within 48 hours. It is best to move the trap to another location in the runway if you do not catch a gopher in this timeframe.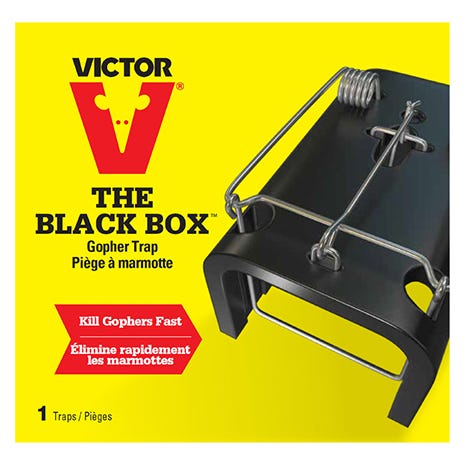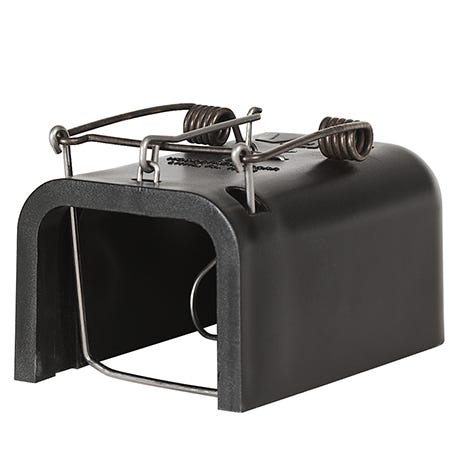 Effective and Versatile
This convenient choker loop-style trap quickly and effectively kills nuisance gophers before they can continue wreaking havoc on your property. When properly placed in the runway, the trap will snare the unsuspecting gopher in the spring-triggered loop. To offer versatile placement, the Black Box can be used in all soil types, including sandy soil.
Unique Design
To offer peace of mind, when installed properly inside a gopher tunnel, all the traps moving parts are located safely below ground away from children and pets. It's a great alternative to convention wire claw and box traps, as well as chemicals and poisons.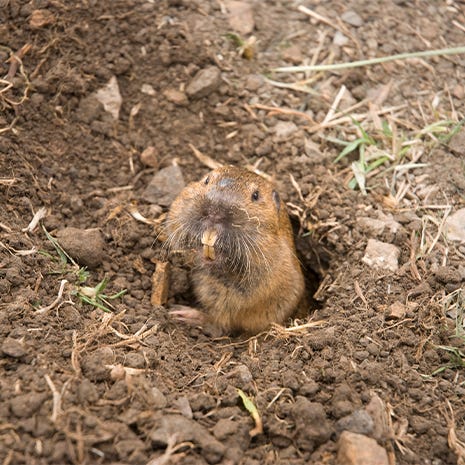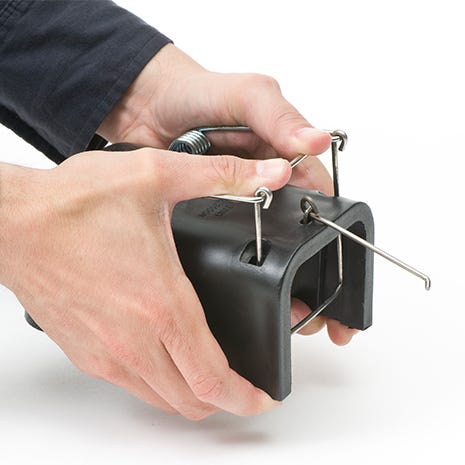 How to Use
Dig a hole down to main tunnel. Make certain that the hole is no larger than the gopher trap and that it is aligned with straight section of the tunnel.
Always keep fingers out of the trap action area. Push the spring down with both thumbs.
Keeping pressure on the spring with your left thumb, maneuver bail wire into position with right thumb. Tilting the trap can help the trip wire move into position.
Slowly relieve pressure on spring. Make sure that bail wire is engaged with the trip wire before sliding thumbs away from the trap.
Place the trap in the tunnel. Trap opening must be level with the bottom of the tunnel.
Cover the trap with loose soil so it appears as if it is part of the runway.
After the trap has fired, remove the gopher if desired.
Victor® the Black Box Gopher Trap Product Details
Do you want to know more helpful details about Victor® the Black Box Gopher Trap? Take a closer look at the in-depth specifications for this product.
Victor® The Black Box Gopher Trap
Model #
C0625
Available Sizes
1-Trap, 3-Traps, and 6-Traps
Trap Style
Choker Loop
Effective Against
Gophers
For Use in
All soil types, including:

WARNING: This product can expose you to chemicals including chromium, which is known to the State of California to cause birth defects or other reproductive harm. For more information go to www.P65Warnings.ca.govwww.P65Warnings.ca.gov.
Victor® The Black Box Gopher Trap
Model #
C0625
Available Sizes
1, 3 or 6 traps
Trap Style
Choker loop
Effective Against
Gophers
For Use In

All soil types, including:

Materials
Weather-resistant plastic, galvanized steel