Victor® Smart-Kill™ Wi-Fi Electronic Mouse Trap - All Questions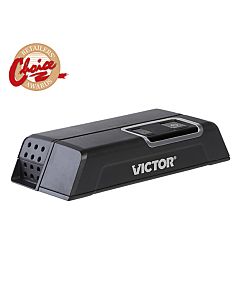 Victor® Smart-Kill™ Wi-Fi Electronic Mouse Trap
1) Do you have WiFi trap for outside?

2) WiFi trap can I use in shed?
Question by: Pauline short on Aug 22, 2021, 10:52 AM
We don't currently have an ourdoor wifi trap. Our current wifi trap may be used in a weatherproof shed.
Answer by: Kathryn Tator on Aug 23, 2021, 11:02 AM
I placed my trap a couple days ago. When I set it up it noted the "last activity". Since setting up / when checking the app - I have had a couple updates about "last activity again". What does this mean? Is this mouse activity in the trap but not far enough in to trigger it?
Question by: Adam on Aug 26, 2021, 11:24 PM
Last activity is simply an indication as to when the trap last spoke with the app. This can occur when there is a kill alert, low battery, or some other type of notification. The trap will check in with the WiFi once per day to reestablish connection.
Answer by: Administrator Lauren on Aug 27, 2021, 8:25 AM
Is there also a light alert like your other models?
Question by: Frank on Oct 29, 2021, 8:30 AM
The indicator light will blink green every 5 seconds to indicate a catch.

Answer by: Rachel Faust on Oct 29, 2021, 8:44 AM
I can not get my trap to connect to wifi. When setting up with the app, I scan the QR code and the app displays "Sorry Unexpected Error". It does the same if I enter the code manually. Even if the unit will not connect to wifi, will it still operate to shock the rodent?
Question by: Scott lLittfin on Nov 9, 2021, 7:36 PM
Sorry to hear about that! There was an issue reported with the app that was preventing the Smart Kill trap from scanning, however it has been resolved. You should now be able to complete the process of adding the trap to your account. Please feel free to reach out with any additional questions at 855-584-2867. We're happy to help!
Answer by: Rachel Faust on Nov 10, 2021, 9:12 AM
How do i remove the mouse after its killed in trap?
Question by: Krazykatlady on Nov 10, 2021, 1:27 AM
To remove the mouse, open the lid to the kill chamber and dump it out.
Answer by: Lauren Steiner on Nov 10, 2021, 7:52 AM
will rechargeable batteries work? sometimes Nicad batteries don't work w/ certain things
Question by: kevin on Jan 14, 2022, 12:21 PM
We do not recommend using rechargeable batteries.
Answer by: Brandon Deleon on Jan 14, 2022, 1:13 PM