Victor® Mole & Gopher Poison Peanuts - 3-Pack
Special Price
$16.99
Regular Price
$17.97
Earn 320 rewards points on your purchase! Learn More
Pellets quickly kill moles and gophers
Easily punch holes in active tunnels with cone tip design
Unique formula is palatable to moles and gophers
Tube makes it easy to pour pellets into tunnels
Do not place in areas accessible to children and pets
3-Pack(each pack contains 6 oz of poison peanuts)
Cannot Ship to:
HI, NH, PR
Victor® Mole & Gopher Poison Peanuts - 3-Pack
Keep your yard free of burrowing critters with Victor Mole & Gopher Poison Peanuts. The handy peanut pellets act as both a bait and a killer to eliminate moles and gophers and stop lawn damage fast. Plus, the cone tip design and precision tube makes it easy to pour pellets into active tunnels. With 6 oz. of peanuts, this container includes plenty of bait to rid yourself of burrowing animals.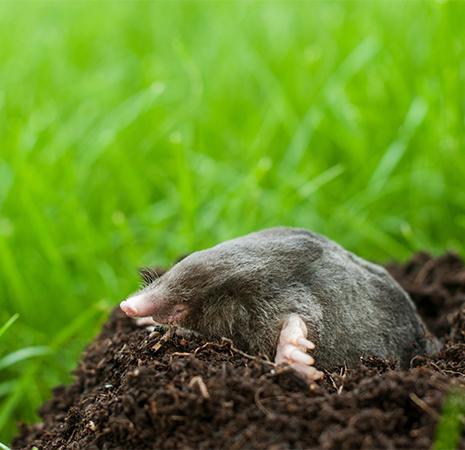 Palatable Bait
Victor® Mole & Gopher Poison Peanuts eliminate moles and gophers doing damage in your yard. First, the peanuts are designed to look and taste extremely palatable to burrowing rodents. After ingesting the poison peanuts, the active ingredient, Zinc Phosphide, soon exterminates them.
Punch Holes with Cone Tip
For your convenience, the cleverly designed container features a cone tip that allows you to punch holes in tunnel surfaces for easy pellet application. After identifying active areas, simply poke a hole in the top of the tunnel with the pointed end of the cone. There are no tools needed!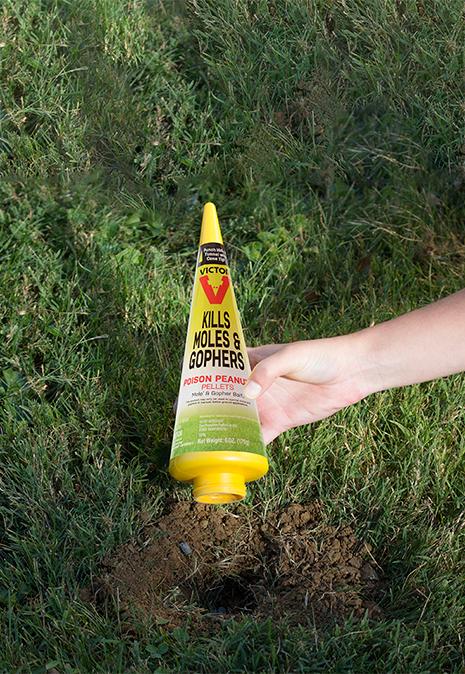 How to Use Poison Peanuts
Victor® Mole & Gopher Poison Peanuts are incredibly easy to use. Note: this product should not be placed in areas that are easily accessible to children and pets.
Prior to treatment, determine which burrows are active by pressing down a small section of the tunnel. The burrow is active if the flattened runway is raised again or the roof has been repaired within 48 hours.
After identifying active burrows, carefully punch a hole in the top of the tunnels with pointed end of cone.
Next, drop in a teaspoon of poison peanuts and carefully close the tunnel with sod or stone.
Do not collapse the runway again or allow loose soil to cover the bait.
After a few days, check the burrows to see if they are still active. If so, repeat treatment.
While wearing waterproof gloves, collect and dispose of exposed dead animals.
Victor® Mole & Gopher Poison Peanuts Product Details
Do you want to know more helpful details about Mole & Gopher Poison Peanuts? Take a closer look at the in-depth specifications for this product.
Victor® Mole & Gopher Poison Peanuts - 3-Pack
Model #
BM6006-3
Quantity(each pack contains 6 oz of poison peanuts)
3 Pack
Active Ingredients

Zinc Phosphide
Other Ingredients

For Use Against
Moles and gophers
Victor® Mole & Gopher Poison Peanuts - 3-Pack
Model #
BM6006-3
Quantity(each pack contains 6 oz of poison peanuts)
3 Pack
Active Ingredients

Zinc Phosphide
Other Ingredients

For Use Against
Moles and gophers