Victor® Fast-Kill® Brand Disposable Mouse Bait Station - 2 Pack
Earn 120 rewards points on your purchase!
Dual-entry design encourages rodent activity
Mouse poison bait stations come pre-loaded and ready to use
High-quality bait formula is extremely palatable to rodents
Simply throw away station when bait is depleted
Child-resistant plastic casing with beveled columns to prevent bait access
Includes two disposable bait stations
Victor® Fast-Kill® Brand Disposable Mouse Poison Bait Station - 2 pack
Do you have pesky house mice scurrying throughout your home? Victor® Fast-Kill® Brand Disposable Mouse Poison Bait Stations have got you covered! The poison bait station arrives pre-filled with a single-feed non-anticoagulant rodenticide, so that it's ready to use upon opening the package! To use, simply place the bait station in areas of high rodent activity. When the bait is depleted, simply throw away the entire station.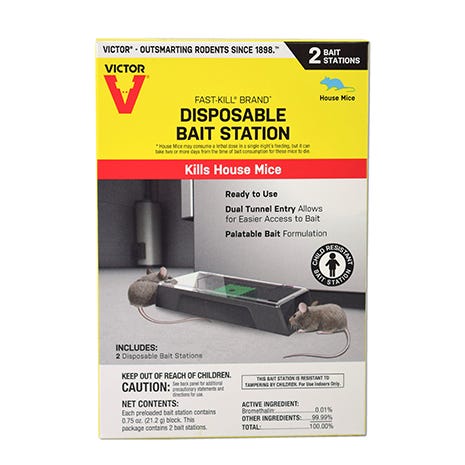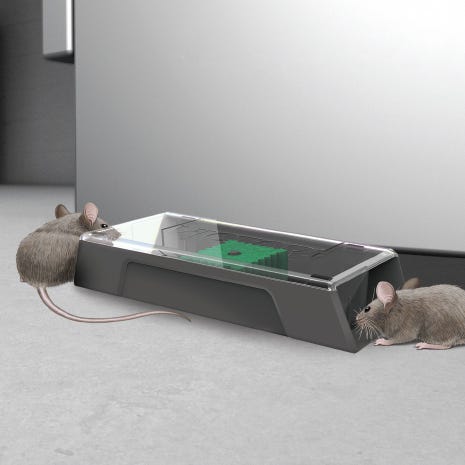 Dual Tunnel Entry
The dual-entry tunnels are designed with rodent travel habits in mind. Place along walls and common mouse runways – mice will be able to enter the poison bait station no matter which direction they are travelling. This unique design encourages mice to interact with the bait station, increasing the chance that they will consume the lethal bait.
Palatable Bait Formula
The bait is made of high-quality ingredients that rodents find incredibly palatable, so it's easy to attract them to the station. Some of the ingredients, such as oats, have been left whole to appeal to rodents' desire to gnaw. Thanks to the unique formulation, rodents will stop feeding after eating a lethal dose, allowing you to control more rodents with less bait!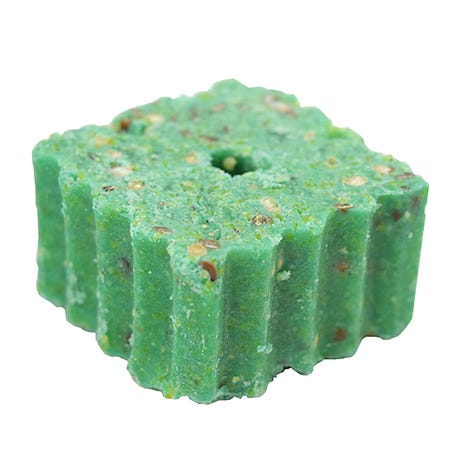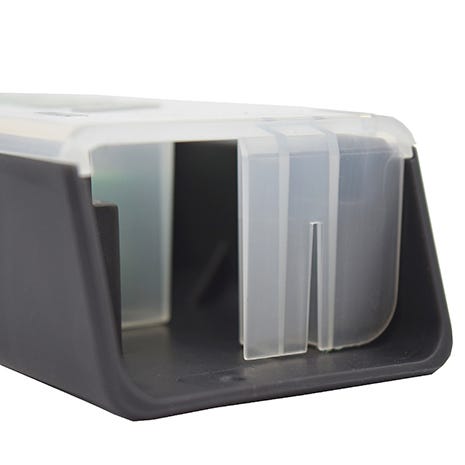 Child Resistant Design
For peace of mind, this poison bait station is constructed with child-resistant features. First is the sturdy plastic casing, which can't be opened. In addition, the station has beveled columns built in to prevent small fingers from reaching inside and touching the bait block.
How to Use:
Remove the poison bait station from packaging.
Place poison bait station flat side down on the floor in areas where you've seen signs of mice. Make sure the location is inaccessible to children, pets, or domestic animals.
If using more than one bait station, place them approximately 8 to 12 feet apart.
Continue baiting until at least 4 days have passed without signs of new feeding activity.
Follow up: Wearing gloves, collect and properly dispose of dead rodents and leftover bait.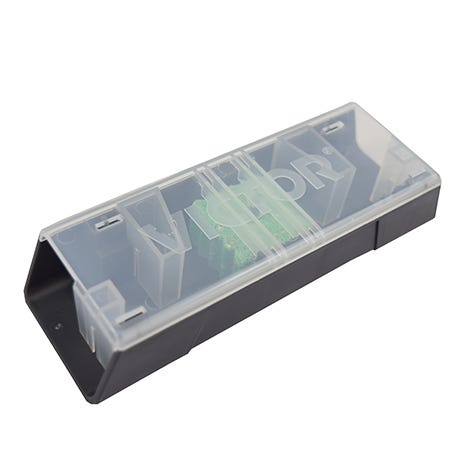 Victor® Fast-Kill® Brand Mouse Disposable Poison Bait Station Product Details
Do you want to know more helpful details about Mouse Disposable Mouse Bait Stations? Take a closer look at the in-depth specifications for this product.
Victor® Fast-Kill® Brand Mouse Disposable Poison Bait Station
Model #
M914
Quantity
2 disposable poison bait stations per package
Effective Against
House Mice
For Use

Along walls
By gnawed openings
In corners and concealed places
Between floors and walls
In locations where mouse activity is seen
Victor® Fast-Kill™ Brand Disposable Mouse Poison Bait Station
Model #
M914
Quantity
2 disposable mouse poison bait stations
Effective Against
House Mice
For Use

Along walls
By gnawed openings
In corners and concealed places
Between floors and walls
In locations where mouse activity has been seen