Victor® Clean-Kill™ Mouse Trap
As low as
$14.98
Regular Price
$0.00
Victor® Clean-Kill™ Mouse Trap
29
3.4
5
1
Earn 0 rewards points on your purchase!
Kill-Gate™: Perfect placement for quick, humane kill
Bait Door eliminates possibility of bait theft
Setting instructions printed on the trap
Narrow profile enables ideal placement
Covered trap for a no-see, no-touch experience
Available Sizes: 4-Pack, 8-Pack, 12-Pack
Victor® Clean-Kill™ Mouse Trap
When Ralph Waldo Emerson, coined the phrase "Build a better mousetrap and the world will beat a path to your door," in the late nineteenth century, this is the trap they were talking about. Why? Because the Victor® Clean-Kill™ Mouse Trap is unlike other traps in that it offers a no-see, no-touch experience with easy, stress-free baiting and setting.
These clever little covered rodent traps look like a perfectly innocent little tunnel for unsuspecting mice. Once the mouse enters the trap to take the bait, however, it's in the perfect position for the Kill-Gate™ to produce a quick, humane Clean-Kill™. The unique tunnel design increases mouse interaction, and since the bait trough is located at the back of the trap, bait theft is a thing of the past.
To empty the trap, simply hold the setting button down, while pulling up on the Kill Gate™ to dispose of the dead mouse. The Clean-Kill™ doesn't use chemicals or poisons, so it's ideal for households with children or pets. Plus, it's highly durable plastic construction means the Clean-Kill™ can be used over and over or disposed of at your discretion.
Easy-to-use instructions for setting the Clean-Kill™ are printed directly on the covered mouse trap. Here's how it works:
Open the bait door located on the back of the trap.
Using a Q-tip, toothpick or other tool to mask your scent, bait the trap by placing peanut butter or anything high in protein like chocolate or hazelnut spread in the bait trough.
Close the bait door.
Hold down the setting button while pulling up on the Kill-Gate™ to set the trap.
Place the trap wherever you've seen signs of rodent activity, or along the wall where rodents primarily travel. Two traps should be used and placed back-to-back lengthwise against the wall.
After the mouse is caught, properly dispose of the dead rodent. The trap can either be discarded or reused.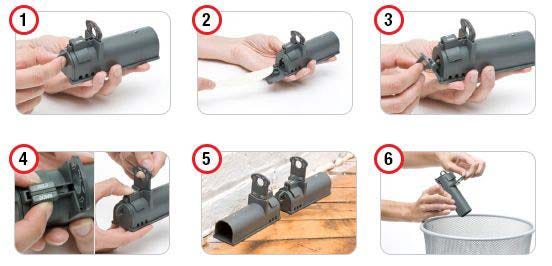 Victor® Clean-Kill™ Mouse Trap Product Details
Do you want to know more helpful details about the Victor® Clean-Kill™ Mouse Trap? Take a closer look at the in-depth specifications for this product.
Victor® Clean-Kill™ Mouse Trap
Model #
CM162S
Available Sizes
4 Traps, 8 Traps, 12 Traps
For Use Against
Mice
Recommended Use

Living Rooms
Kitchens
Attics
Basements
Garages

Features

Kill-Gate™: Perfect placement for quick, humane kill
Bait Door eliminates possibility of bait theft
Narrow profile enables ideal placement"
Covered trap for a no-see, no-touch experience
Victor® Clean-Kill™ Mouse Trap
Model #
CM162S
Available Sizes
4 Traps, 8 Traps, 12 Traps
For Use Against
Mice
Recommended Use

Living Rooms
Kitchens
Attics
Basements
Garages

Features

Kill-Gate™: Perfect placement for quick, humane kill
Bait Door eliminates possibility of bait theft
Narrow profile enables ideal placement"
Covered trap for a no-see, no-touch experience
Customer Reviews
0%
of customers
recommend this product